4.c.i. Intensity of convection
Let us estimate the depth of conduction layer

and potential temperature difference in conduction layer

by using (2) and (4). The sum of net infrared radiative heating due to CO2 and sensible heat flux is about 20 Wm-2 in the day time (Figure 12f (right panel)). The value of turbulent diffusion coefficient in the thermal boundary layer is about the same as that for the dust-free case, i.e., about 15 m2sec-1, (Figure 12b). Substituting these values into (2), the vertical gradient of horizontal mean potential temperature in the conduction layer is estimated as -0.1 Km-1. This value is consistent with the simulation result shown in Figure 14. Further using these values, (4) can be rewritten as follows;

From this expression, we obtain

˜ 60 m and

˜ 6 K. (The corresponding results of our simulations are

< 50 m and

˜ 3 K.) Compared to the estimated values of the dust-free case,

is about the same, but

is about 2 K smaller.
Potential temperature deviation of ascending convective plumes is estimated by using (5). From Figure 14, we can adopt

˜ 40 m,

˜ 3 K, and

˜ 5000 m. We assume the magnitude of tubulent diffusion coefficient is roughly the same as that of the dust-free case (

˜ 15 m2sec-1). Substituting these values into (5), we obtain potential temperature deviation of plumes as follows;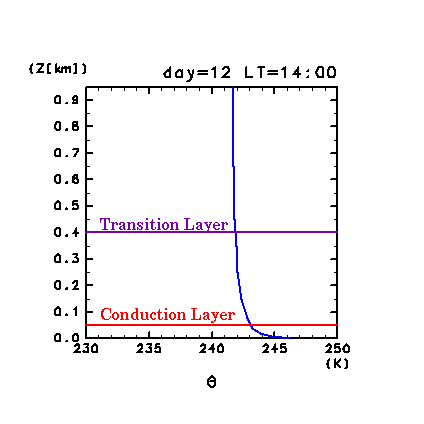 Figure 14: Vertical profile of horizontal mean potential temperature below the height of 1 km at LT=14:00 of the 6th day of the dusty case.